Providing New Life to Your Old Technology®
When organizations update their office equipment, they need a solution for their surplus and end-of-life items. Quite often, the discarded equipment is in good working condition and still holds value. Bass Computers has been in the technology industry since 1991 and is well-equipped to refurbish electronics for a second life. We have the tools, equipment, facility, and knowledgeable staff to repurpose the technology equipment that arrives at our location. All equipment is handled and processed properly. Adhering to strict security and quality standards, we remove all asset tags and destroy all data through erasure or shredding prior to resale. Remarketing not only helps the environment, but it can also be financially beneficial. Bass offers our customers a percentage of fair market value of all resalable electronics received.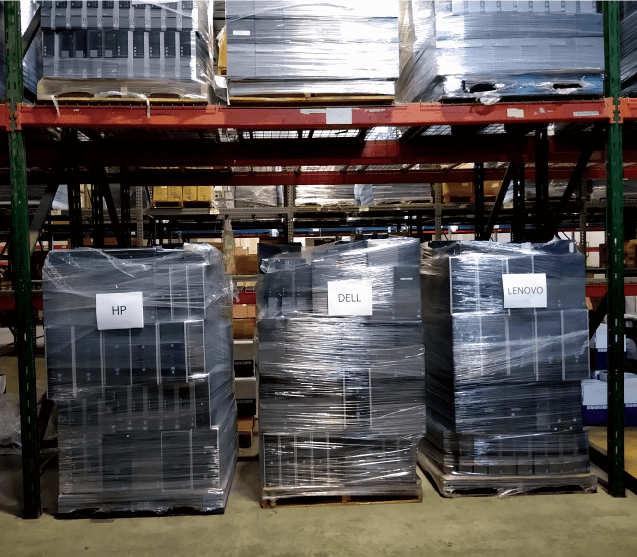 How We Handle Refurbished Electronics
As a wholesale distributor of electronics, Bass Computers has numerous sales channels, including an online store, internet auction sites, and a wide network of resellers to sell refurbished equipment and maximize your return on investment. Our expert sales staff works closely with our Electronic Recycling Specialists to evaluate and actively find markets for sellable items. This enables us to pay top value for working IT equipment. We resell many major name brands, including Acer, Apple, Cisco, Dell, Gateway, HP, IBM, Kingston, Lenovo, Seagate, SuperTalent, Western Digital, and multiple other manufacturers. Our inventory includes a wide variety of products, such as desktops, laptops, memory, motherboards, servers, LCD monitors, networking equipment, security products and much more. When we refurbish desktops and laptops, We install genuine Microsoft Windows. After the product is refurbished, our technicians clean, test and package the materials following strict quality control guidelines.
We offer two options for the final settlement. Organizations can either receive credit towards the purchase of new technology or receive a check of up to 25% fair market value. Beyond IT equipment, we also offer a full line of security products, including cameras, NVRs and DVRs.  If your organization is looking to upgrade its' security system, this is another great option for your credit!